There are so many people out there creating nothing but confusion about the best make money online resources. I've used several hundred, if not close to a thousand, different programs, widgets, plugins, extensions, services, etc. I've spent the last twenty-plus years in e-commerce and have used many tools and services.
While this list is not exhaustive, it will continue to grow. I wanted to present you with a list of programs that I find exceptional and you can know that you can use them without hesitation. They will do exactly what they say they will. It's my goal in the future to present some in-depth articles/videos about each of these services, but for now, here's the list.
Please know that most, if not all, of these links are affiliate links.
This means I was so happy with the company and/or services provided that I asked them to allow me to promote their company. In return, they agreed to allow me to do that and that if you use my affiliate link to get more information or sign up with any of these companies, they will grant me some form of compensation, and they have given me a special offer to pass along to you that you will only get by using my special affiliate link below.
In no particular order here we go!
Asinzen
ASINZEN – This is without a doubt one of my favorite Chrome extensions to help analyze the profitability of Amazon products I am considering buying wholesale to resell on Amazon. When you use my link, you will receive a $50 discount that I've negotiated for you with Asinzen. You will receive a 30-day free trial and a 14-day money-back guarantee. To claim your discount and begin your trial, go to ASINZEN.
Article Forge
ARTICLE FORGE – I don't need to tell you how important optimizing every step in your SEO pipeline is. But unfortunately, it's nearly impossible to cut out time or money when it comes to getting good content.
At least that's what I thought until I came across Article Forge. Built by a team of AI researchers from MIT, Carnegie Mellon, and Harvard, Article Forge is artificial intelligence (AI) powered content writer that uses deep learning models to write entire articles about any topic in less than 60 seconds.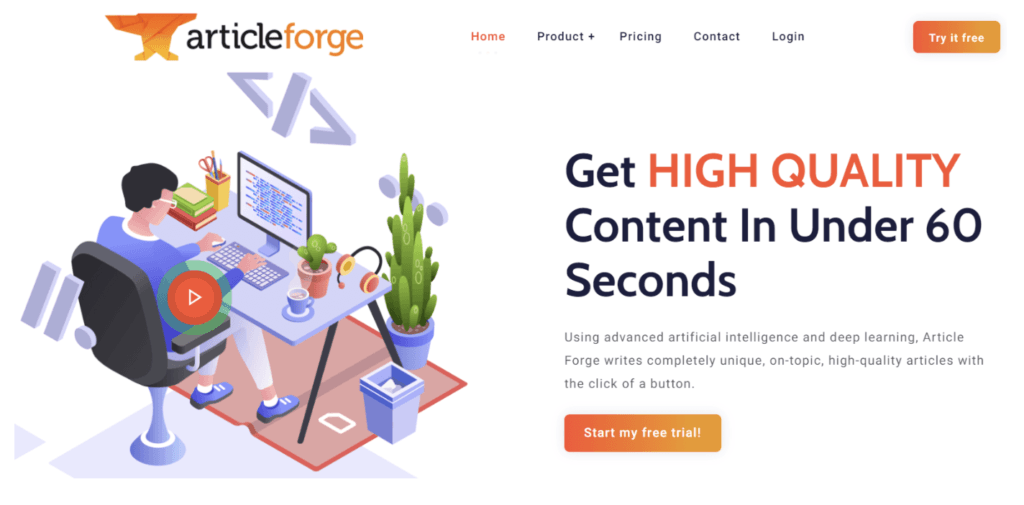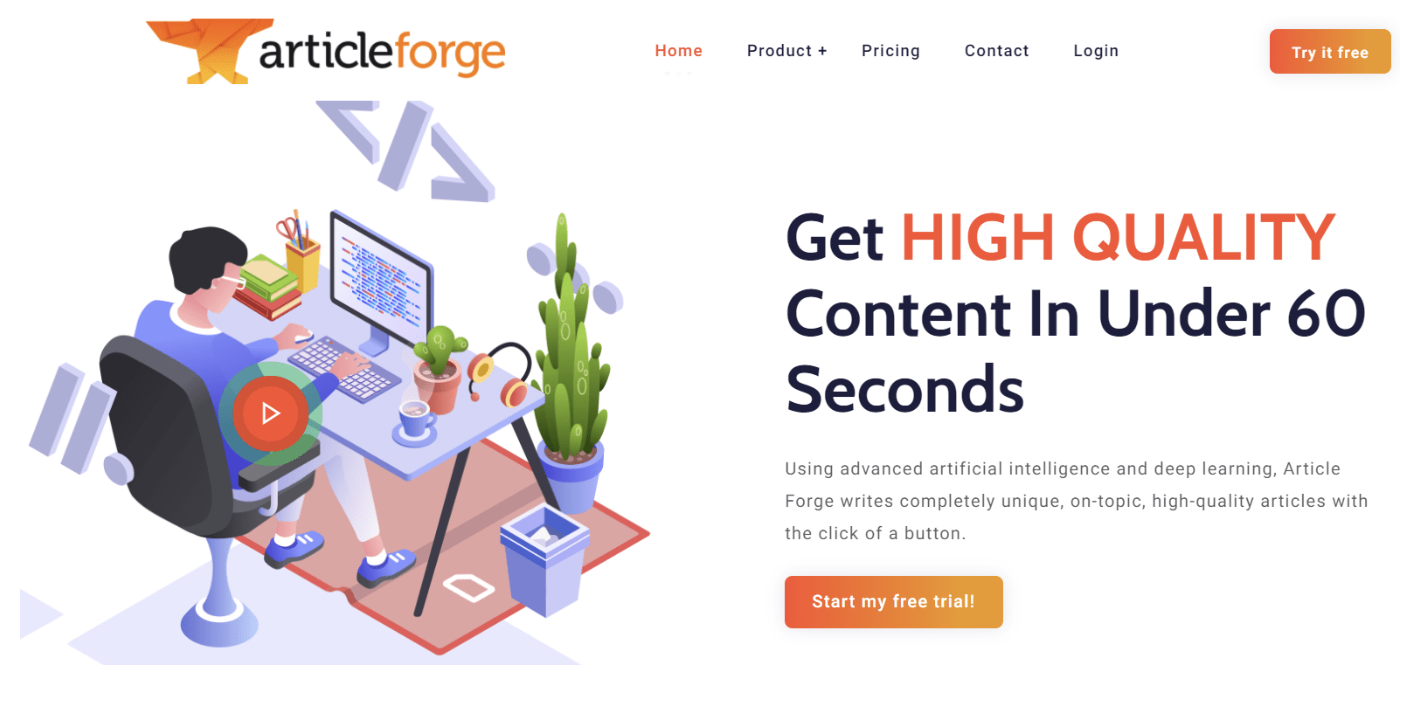 Their team trained AI models on millions of articles to teach Article Forge how to draw connections between topics so that each article it writes is relevant, interesting, and useful. All their hard work means you just enter a few keywords and Article Forge will write a complete article from scratch making sure every thought flows naturally into the next, resulting in readable, high quality, and unique content.
Put simply, this is a secret weapon for anyone who needs content.
I get how impossible that sounds so you need to see how Article Forge writes a complete article in less than 60 seconds!
I had to share this with you because I know this will be a game-changer for your business. If you're writing your own content, Article Forge can take a long and difficult process and turn it into a single button click.
If you're buying content, Article Forge's flat fee, unlimited articles, and 60-second turnaround will be cheaper and faster than any other content provider. Either way, Article Forge will help you take your content creation process to the next level.
More importantly, Article Forge offers a free 5-day trial so you can see for yourself how this technology will revolutionize your content pipeline for your niche and your use case.
So what are you waiting for? Click here to get your 5-day Free Trial and start generating unlimited unique content
And make sure to thank me later when this tool has changed the way you create content 🙂
Click here to read a more extensive article about Article Forge and another program called WordAi.
Repricers
INFORMED.CO – I've used most of the Amazon repricers out there and only two really stood out. Informed.co is one of them. It's one of the best at artificial intelligence repricing, and man is it fast! Machine learning is the future and informed.co is already ahead of the competition by leap and bounds.
It's designed to not just win you the buy box more often, but to do that while maximizing profits.
They currently support over fourteen online marketplaces in addition to Amazon.com. If you are currently selling on Walmart.com, Informed.co has you covered. By using my link you will get a 14-day free trial and repricing for up to 50,000 listings.
Another good repricer is Aura. More on Aura later.
Jungle Scout
JUNGLE SCOUT – Ạṁazon Sellers Of Every Size Count On Jungle Scout To Successfully Grow Their Business. Jungle Scout Supports Ambitious Entrepreneurs All Over The World. Jungle Scout has created the most comprehensive product database that allows sellers to filter by sales, competition, and other metrics in minutes to find profitable opportunities.
Their Chrome extension allows you to instantly see sales trends and potential competition, directly on Amazon. They also have one of the most advanced resource libraries for Amazon sellers in the world. With unlimited access to the best information, sellers are able to succeed.
Livestorm
LIVESTORM WEBINAR SOFTWARE – If you have the need to manage online meetings, webinars or virtual events, Livestorm is the platform for you. You are able to do automated/on-demand webinars to teach and promote 24/7. Livestorm is so much more than a webinar or video conferencing software.
You manage the entire experience for your meetings, webinars, and virtual events in one place for two to three thousand attendees. You can run all your remote communication from one platform. This will save time for you and your team by using one platform for any use case.
Cut software costs, and streamline your processes, and breakthrough silos by switching to Livestorm. Use it for product demos, customer training, online courses, podcast interviews, live events, Live Q&As, company communication, employee onboarding, and hiring sessions.
Camtasia
CAMTASIA – I've been using Camtasia for so long, that I am not even sure I can put a date on it. This program allows you to record whatever is on your screen, and yourself, or just your screen, or just yourself, to make really cool videos. The number of use cases for these kinds of videos is endless.
I have made over 2,000 videos with Camtasia and have found it super easy to use. There are other programs out there that can kind of do what Camtasia can do, however, time and time again after trying other solutions, I find myself returning to Camtasia.
Camtasia's parent company Techsmith also offers a program called Snagit, which is a Screen Capture and Screen Recording program. This allows you to quickly capture whatever is on your screen or camera, add additional context, and share images, GIFs, or videos across your preferred platforms.
In addition to Camtasia and Snagit, Techsmith offers Knowmia (a Video Learning Platform to create and share media for online training), Audiate (a voice recorder and audio editor to create professional sounding voiceovers for your videos), and Video Review (a collaborative feedback tool to streamline obtaining reviews on your videos).
Wealthy Affiliate
Wealthy Affiliate – This is one of the best programs I've ever seen to not only teach someone how to easily and effectively build a WordPress website, but they then show you how to monetize it the right way with affiliate offers in your chosen niche/niches.
This program has been around for years with over two million people have gone through it. The support within the program is second to none, and it's one of the least expensive programs I've seen that truly delivers on its big promises. If you're looking for a place to start creating profits online, the Wealthy Affiliate program is where I would start.
Full disclosure, I am not crazy about the name, lol, but you can know with certainty that you will make money online if you are willing to follow the step-by-step program. I am very involved with this program and happily coach one-on-one folks that join using my link.
Bonjoro
This is one of the more "fun" programs for you to use if you have a need for it. It's a service that allows you to convert leads and build loyal superfans through a really cool video platform. This is for creators and brands mostly. It allows you to make a really good first impression with personalized video messages.
When I was selling one of my high ticket training programs, I was able to set up an automation to be notified when I had a new customer, and through a special phone app, I was able instantly to create a personalized welcome video and send it to my new member. Very, very cool.


My preferred wholesale inventory file analyzer is Analyzer.Tools. I am going to create some tutorial videos on this program created in the near future, but for right now, please know that I have negotiated a coupon code for my followers, however, you must use this Analyzer.Tools link and then enter code ToddVIP2250 and you will receive 50% off the first month of service.
You would use Analyzer.Tools if you are a seller on Amazon using the wholesale method. Amazon sellers using the wholesale model obtain large inventory files from wholesale distribution companies that represent sometimes hundreds of different brands.
These inventory files can contain tens of thousands of products. Many times in excess of forty thousand products. Not all of these products are profitable to sell on Amazon. Matter of fact, it's fair to say that the vast majority of the products available to purchase are not profitable on Amazon.
Therefore, software like Analyzer.Tools exist to significantly reduce the amount of time to analyze these large inventory files, to find the products that should be profitable on Amazon.
Coming Soon!
Paid Traffic for Make Money Programs
SOP Creation for Virtual Assistants